Anita get Bail
Author: Arun Shourie
Book Link: Amazon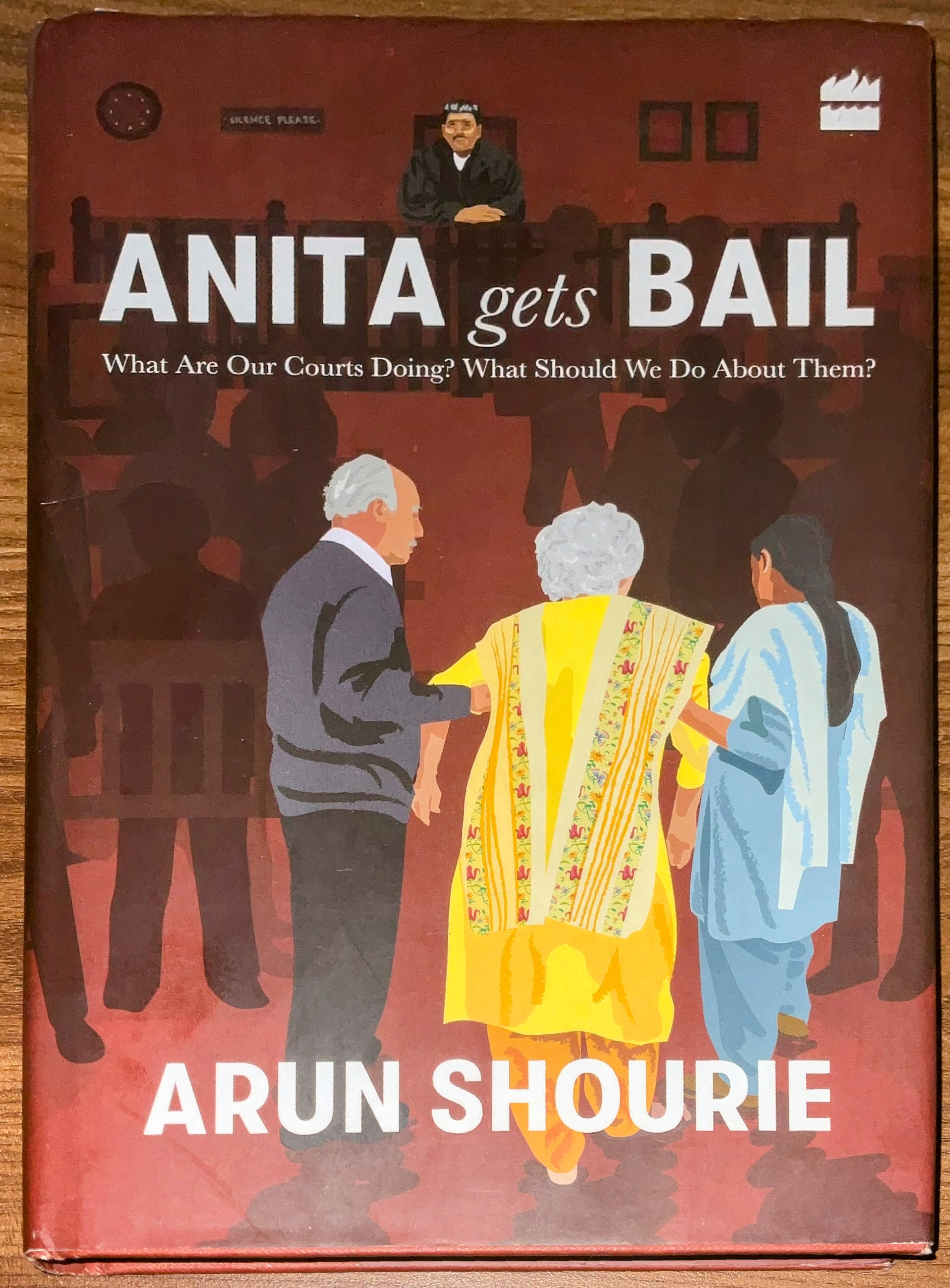 Table of Contents
Chapter 1: For a house we never built on a plot we did not own.
Arun Shourie's wife Anita was summoned by court for the charge of evading arrest which had been issued due to her evading summons.
Anita was bedridden due to Parkinson's and Arun Shourie attended the court which was over 50 km from their house.
The case was in connection to illegal construction on a piece of land without environment clearance, due to it being a reserved area.
However, Anita had sold the land without any construction even before the start of the case.
This fact was highlighted multiple times to the authorities who had filed the case, at every step, but they still chose to proceed with the case, despite acknowledging the response sent by Shouries.
The case also had the person who bought the land from them as accused, so the accusing party was aware of the sale having happened.
The construction it later turned out was a shed for watchmen that had existed beforehand and there was no evidence that Shouries had erected the structure.
While appearing for the case, Arun Shourie contested that they never received any summons failing which his wife who was unable to walk without assistance, had been summoned by court and the judge accepted that often the summons are not event sent and yet recipients are shown as absent.
Despite asking repeated for exempting his wife from appearing personally, the court did not agree at first, asking for fresh tests and doctors reports confirming the diagnosis that Shourie had reported in the court.
The case was adjourned multiple times due to Judges taking leave and a total of 4 judges heard the case.
The land had been sold in 2008, complaint filed in 2009 and they were finally acquitted in 2015, after 6 years.
They were acquitted because the parent case, where environment dept officials had alleged corruption by revenue dept officials could not be proven and hence this case ended by default. But for a lot of others who had also bought the land nearby, cases continued to proceed.
Chapter 2: Justice done, undone, redone
Jayalalitha was CM of Tamil Nadu and the opposition DMK ordered a probe into her disproportionate assets case when in power in 1997.
The lower court found her guilty, but then high court overturned the decision on a technicality followed by Supreme Court which restored the trial court order.
The case was the increase in assets of Jayalalitha and her associates including Sasikala, between the period of 1991 to 1996, called the check period.
Idea is to look at assets at the start and end of the check period, and if the rise in assets can be explained by income during this period, then the assets are legal otherwise indicative of corruption.
According to lower court, during the check period, the accused income during the period was Rs. 9.9 crores while expenditures were Rs. 8.5 crores, but the corresponding rise in assets was Rs 53.6 crores.
While the calculations by lower court was precise, in the high court, the judge allowed for a greater source of income, by accepting incomes declared after filing of the case, loans sanctioned but not disbursed and reduction in expenses. Further the high court judge decreased the expenditures, so that the assets were accounted for. This still was not enough, so in his order he seemed to have committed an arithmetic error in totalling the monies so that the result being that the unexplained assets were lower than 10% of the total income.
The 10% mark is import because Supreme Court had previously set a 10% rule of grace where in disproportionate assets under 10% of total incomes could be allowed.
However, by the time Supreme Court arrived at a judgment, Jayalalitha had died, and the High Court judge had retired. Sasikala was sent to jail, however.
The final stages of lower court cases and the high court case had been transferred to Karnataka because it was alleged that the cases could not be pursued in an unbiased manner in Tamil Nadu
Chapter 3: Prosecutor hunting, and other devices
The Jayalalitha disproportionate assets case had many peculiarities.
The case was pursued by DMK party member K Anbazhagan, who intervened at multiple steps whenever attempts were made to tamper with the case.
When Jayalalitha came back to power, the investigation agency insisted to stop the case so they can investigate the case further, but this was not allowed.
Also, after her return to power the investigating officer, the public prosecutor as well as the advocate representing the state all resigned. This fact was highlighted by Supreme Court.
Witnesses also turned hostile in this period by recalling their statement. However, the new prosecutor did not declare them hostile but allowed them to recall their statements without any cross questioning.
Supreme Court Steps in
K Anbazhagan highlighted the above facts in Supreme Court and asked for the trial to be moved to some other court. Accordingly, Supreme Court transferred the case to Karnataka, which was to appoint its own public prosecutor.
Supreme Court also highlighted that just because a witness recalls their testimony, it cannot be assumed to be washed away, especially since they were not cross examined.
In Karnataka, the government of Karnataka, after consulting with High Court of Karnataka created a special court for the case and it appointed B. V. Acharya as the special public prosecutor. He was also the advocate general for the state of Karnataka.
After the case was moved to Karnataka, the accused asked that the case be merged with another case about a hotel in London. Acharya opposed it on the basis that the hotel case was separate and at a different stage of investigation and thus clubbing it would lead to unnecessary delays. This was accepted by the court.
Next, petitions were filed that since Acharya was also the advocate general, he could not hold two posts simultaneously, despite there being no rules barring it.
Further, acharya was part of an educational institute and PILs were filed alleging corruption in these institutes.
While the education institutes cases went on for a while before being dismissed, for the two posts question Acharya surprised them by resigning from the post of advocate general.
However, eventually he resigned from the case.
Next, Karnataka government proposed four names to the acting Chief Justice of Karnataka High Court as replacement to Acharya, the court asked them to consider a fifth person, G Bhavani Singh whose name was not in the original list.
For the rest of duration of the case, G Bhavani Singh rarely made any contribution to the case and majority of work was done by Judge D'Cunha, who noted that rather than contributing to the case, Bhavani Singh was placing impediments, so much so that he was even fined for it. The fine was appealed in High Court and then in Supreme Court.
When the embarrassed Karnataka Government tried to withdraw the appointment of Bhavani Singh, the accused approached Supreme Court against the order with the logic that it would lead to delay in the case. Supreme Court agreed with the accused.
Why do things not get done?
The way to reduce pendency of cases is to levy punitive fines to those wasting court time as well as "naming and shaming" the lawyers doing that.
The rules, although far from perfect, have been framed but courts defy them. They don't levy the fines that they should. The rules too are not mechanical so that discretion is removed. The quantum of fine is important.
Chapter 4: When courts are compelled to step out of their domain
We often lament the judicial activism, but it exists for a reason. First of there is a need for it, which arises when institutions don't do what they are supposed to do. When police don't investigate properly or speakers of assemblies are not impartial, courts step in to rectify the situation and no one really objects because they know that the situation demanded an intervention.
Secondly, the lack of proper conduct by other branches of the State result in a loss of legitimacy and this give judiciary the opportunity to step in and give directions.
Additionally, cases are often bought to court by activists who specialise in those areas, and they have a motivated point of view that they might want the court to endorse. The lawyers representing them might not paint the complete picture and hence it is important that judges are mindful of any biases that they might have as well as any gaps in their knowledge.
Next, taking up a case can have costs and this the courts should be mindful of. Developers of Lavasa were forced to put the project on hold, and by the time the project was cleared the project was no longer viable. A lot of corporates have been victims of this impulse.
Finally, it doesn't matter how good a judgment courts pass to fix a situation if they cannot force enforcement. Judiciary tried to reform legislature by mandating disposing of cases that parliamentarians were accused of, but they were not able to get anything be implemented on ground and this reduces the effectiveness of such judicial intervention to mere paper orders.
Chapter 5: Adherence?
The observations from last chapter lead us to the question as to why courts' orders are not adhered to by the executive.
Even when they are implemented, it might choose to implement it in a way that it likes.
For example, when Supreme Court mandated setting up a three-member committee to identify that government ads were not misused as an instrument of patronage, the committee overlooked any potential missteps of central government and focused primarily on the Aam Aadmi Party.
Sometimes there is wilful and deliberate disregard. Take the case of [[Police Reforms]]. National Police Commission was setup in 1977. Prakash Singh, a retired DGP of UP police a petition in supreme court after 15 ears to have the recommendations of the commission implemented. The petition was settled by SC after 10 years and even till date, few recommendations have been implemented and police still acts under political influence. A key anomaly that the recommendations by the commission tried to rectify.
Various state governments simply disregarded Supreme Court orders and the Supreme Court barely did anything to hold these governments in contempt.
At times, some state governments even passed laws that either circumvented or nullified the Supreme Court directions.
But this lack of adherence is not limited to the matters heard by judiciary, but the judiciary itself is often ignored by the executive. Several judicial commissions and representation of present and former judges have made a case for more resources to provide greater facilities in the courts, appoint more judges in line with the population growth and so on. Yet the executive comfortable chooses to ignore and judiciary is not able to take any remedial steps to even help itself.
The lessons here are clear. The politicians all over the political spectrum are not interested in empowering the judiciary, and second that the courts cannot pass judgements and forget. They might rely on the aggrieved party to bring any violations of the court order to their notice due to the lack of resources for the court to follow up, but this cannot continue. Courts must, in some shape or form, from time to time, check-up on the implementation of the orders passed by them.
Chapter 6: When one of our own is involved.
Judiciary is one of the few institutions in India that still is widely trusted. This trust has been earned over the years and needs to be earned over and over again.
Courts need to look at the gaps, be it in the appointment of judges or the perception that corruption in judiciary is prevalent. Then there is the fact that our courts often act in heartless manner, following rules rather than being compassionate. Courts need to ensure that they are above suspicion.
In Aug 2008, a confusion in the names led to a bag of cash was delivered to another judge who promptly reported the matter. The accused judge was a sister of the then finance minister of Haryana and had bought land in Himachal Pradesh. The case had many twists and turns and most prominently, various levels tried to suppress the case.
Since investigation against a judge was involved, CBI needed approval from the Chief Justice of India, but even before that attempts were made to kill the case. During this time the accused judge was transferred to other courts and eventually retired. Another accused died of old age. The case is still underway as of the date of publishing of the book.
The question remains how such serious accusations did not prompt a more expedient action. If a judge is suspected of being corrupt, with a bag of money involved how can they be trusted of being impartial of any cases that they are presiding over either in the current or the next court that they were transferred to. In fact, the defence even used the argument that the Chief Justice did not believe in the merits of case because why otherwise would the transfer/appointment to another court be approved if there was any suspicion on the character of the judge.
In Kolkata, raids on an accountant firm revealed judgments of the cases that the clients of the firm were involved in. It also included judgements which had not even been pronounced yet, giving rise to the suspicious that the firm was involved in setting the judgments for their clients and had unimaginable access that they were able to even affect the draft of the judgements.
Cases like there erode the trust that public has in the judiciary.
Chapter 7: Bane hain ahl-e-havas muddai bhi munsif bhi
While the previous chapter focused on how trust in judiciary is eroded due to unenforceable judgements or cases of corruption, the judiciary itself seems to be powerless as an institution, either because of weakness of the institution or of individuals.
Justice Loya's death is shrouded in mystery and contradictions and yet little action is taken. Little effort seems to have been made by courts too to address the many inconsistencies present in the case.
Further, politicians too keep courts handicapped. Facilities in courts are underwhelming and often there is a resource crunch.
Multiple Chief Justices and Justices have repeatedly made the point that there is a shortage of staff and facilities. If courts can't even get resources that they need for their functioning, how can they ensure that the orders they pass are respected.
Then there are cases where the integrity of the judges has been questioned and rather than handle the issue in a transparent mechanism, actions are taken which give the impression that the system is not transparent.
Further, there are the judicial conventions which are not followed, and which result in further erosion of trust. This eventually leads to a dilution in the impact judiciary can realistically have.
Chapter 8: What if he had not written that letter?
Justice C.S. Karnan of Calcutta High Court wrote a letter to Prime Minister in January 2017 accusing twenty judges of being corrupt, without any evidence.
He then accuses Chief Justice of Madras High Court to be the source of all his trouble and issued orders against him and other judges as well as punitive damages.
The judge was dismissed from attending court, but he continued to hold court from him home.
Eventually he was arrested after being on run and relieved of his duties, but it brings into question all the cases that he tried.
He clearly was not of sound mind, then why was he transferred from Madras High Court to Kolkata High Court? Shouldn't the chief justice of Madras High Court have had him dismissed instead of having him transferred.
Given that he alleged caste discrimination even when it was not apparent, and on multiple times viewed his situation from a prism of caste discrimination, can one expect him to be unbiased while judging a case that might involve caste angle?
Finally, what would have happened if he had never written the letter and effectively exposed himself. How is one to trust the judges deciding their case if they can not only be not sure about the judge but that even when others have noticed that judges are less than ideal, they take no action.
Chapter 9: Eloquence
Our judges are known for giving extremely verbose judgements, even when the situation does not warrant anything but brevity.
The issue includes, using archaic language, filled with synonyms as well as self-referencing old judgment by other judges as well as by the same judge.
This leads to wastage of paper at the least, but also increases the resources involved in the case as well as increases the surface area of a judgment, which hinders justice rather than serves it.
Author gives the example of Dipak Misra who referenced his own judgments as well as added mundane details with barely tangential application to the case.
Another judge, while ruling on the legality of police action on the protesters sleeping during the protest organised by Baba Ramdev in 2011, goes on and on about the benefits of sleep, elevating it to the level of a human right before bringing it down by limiting the places where it could be acceptable for someone to sleep. All this in a case which was about whether the gathering was still legal if the police permission was applicable or not.
At other times poems and social essays are included by judges in their judgements.
And it is not that judiciary is unaware of the issue. Supreme Court has issued directions in 2001 and then again in 2013 to eliminate the practice and yet it continues.
In a case where doctors had been accused of abetting female infanticide, the judge not only courted his own judgement which included reference to another judgement, he also pontificated on the status of women in the society as well as repeated the directions given at three different times in the past.
So rather than quoting past judgments again, or going on long tangents which include poems, stories, and philosophies, wouldn't it make much more sense if the judges instead focused on giving crisp enforceable judgments and followed up on execution, rather than writing flowery language and ignoring the execution/implementation of their orders.
Chapter 10: And yet I am taken by surprise
Looking at some other judgment, the author gives example of a judgement which not only is too verbose but is also laced with Latin terminology which makes it near impossible for anyone to understand it.
In a case filed by St. Stephens vs university of Delhi, past judgements were referenced but not only were previous judgments by an eleven-member bench really long, they were interpreted differently by different state government.
When the case reached supreme court, a seven-member bench had to be constituted to clarify the judgment.
Chapter 11: So much science
A high court judge from Rajasthan made news in 2015, when in his statement about peacocks being celibate and procreating through drinking tears made news.
The judge, a devote of Lord Krishna also presided over a case involving cows and wrote bizarre and detailed things about cows and cow milk, that has no backing in any scientific literature.
his judgement included pages on pages about the benefits of milk, ghee, and other dairy products. When the author contacted him for sources of his claims as well as the "scientists" mentioned in his judgment, he said that he had not consulted any primary sources and had instead relied on a pamphlet, a TV news report by Zee News as well as some videos which he was willing to send over WhatsApp.
In a separate case, a murder accused had tried to escape punishment by pretending to be sick. Supreme Court caught him in the lie and then fined him 1.4Cr. But rather than give this money to the widow of victim, judges distributed it to the Bar association as well as other associations as well as used it for repairs in the court. The widow was given less than 4% of the total sum so that "she could utilise the interest on the amount during her lifetime".
Chapter 12: Thinking through
Justice Dipak Misra had in early 2000s presided over a case where a lawyer had alleged that makers of the film "Kabhi Khushi Kabhi Gham" had disrespected the national anthem as their film included a scene where a kid sings National Anthem but forgets the last part.
The judge ruled in his favour and mandated that all copies of the movie be destroyed and the film to be released again only when the scene is removed.
The judgment was set aside by Supreme Court, but when Justice Dipak Misra became the Chief Justice, the same lawyer approached Supreme Court and again filed the same case which resulted in the judgment which mandated that National Anthem be played before every show in a theatre and people should stand up to respect it.
The acts of vigilantism that followed throughout the country are well known where people started harassing fellow cinema consumers and as well as using hateful terms as well as acts of violence.
The question remains, are our judges not thinking through the consequences before passing judgements? The outcome in this case is not too hard to imagine.
Further, when people were arrested by police, the situation was ironic as there is no law that criminalised the act of not standing up for national anthem, so police had to get creative to book people.
Finally, why were only Cinema halls asked to play National Anthem? Why not theatres or concerts. More importantly, why not mandate singing and respecting of national anthem before every case hearing. If audiences in film festival cannot complain about the absurdity of standing for national anthem 40 times during a single day, why not our justices?
Similar irony stuck when Supreme Court ruled that drivers should not be able to get liquor on highways causing nationwide confusion, involving reclassification of roads, cancellation of liquor licenses, amendments to the order and so on. All this pain could have been avoided if simply, rather than worrying about who was buying/drinking alcohol and where, the courts simply mandated breathalysers to identify drunk drivers. But perhaps that's asking too much.
Chapter 13: Circumstances, consequences, meta-consequences
Judges must be cognizant of the consequences that their judgments have.
Take for example the elaborate directions given for arresting individuals for ensuring civil rights. The directions are near impossible in case the accused is a terrorist or a security risk.
This results in police forced to ignore the directions. And once the directions are violated for genuine cases, it becomes a norm and even for regular citizens, the rules are discarded, and courts do little to ensure that the rules are being followed.
Similarly, situation in Punjab had deteriorated beyond control during the 80s and it was a group of few police officials, who restored order and normalcy. Although their actions did involve extra-constitutional means, the situation should be taken into consideration.
Instead, judges who earlier gave favourable judgments to terrorists under duress started prosecuting these police officers once order was restored. In many cases, police officers were lodged in jails with the terrorists that they had captured.
Next, it is not enough for lawyers and judges to act by the book, they must act as officers of the court. Lawyers should defend their clients, but not at the cost of legal system. Similarly judges know when a case is being dragged, but instead of preventing such mischief they go along with it hiding behind the technical validity of such actions. This cannot be considered enough.
Finally, we need a wider academic and civil society interest in judiciary. In USA, while confirmation of judges to higher offices, their judgements as well as views are scrutinised. This is possible as academics track the cases and the judgment and create a body of literature that can then be used. In India, we barely have any material on the judges to make an informed choice.
To ensure judicial accountability is not just the job of courts and media but academia as well as civil society.
DISCLAIMER:
These notes are based on my reading of the book and were originally for meant for my personal use only. As such there may inadvertently contain any biases or errors. I'd be grateful if you point out errors (if any) as well as discuss any point that you may not agree with.
Just to be absolutely sure, please note that I have not proof-read these notes, but simply copied them verbatim from my notes app to cut down the time taken. At the time of writing these notes were purely for personal consumption and/or further enquiry. So if you find any sentence/reference/comment to be offensive, please contact me first before "calling me out". I'll remove it if I agree with you or at the very least will try to make my case