The Indigo Story
Author: Shelley Vishwajeet
Book Link: Amazon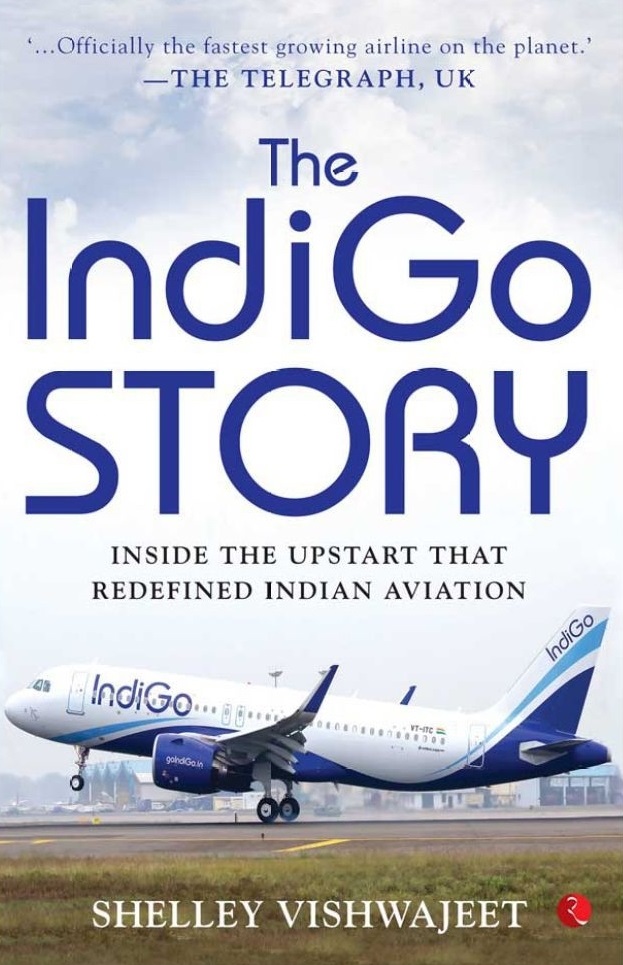 Table of Contents
Takeaways
Indigo's history
Indigo is the dominant player in Indian Domestic aviation with a market share of 48% as of 2020.
Indigo had two founders coming together. Rahul Bhatia & Rakesh Gangwal.
Rahul Bhatia's father had an airline ticketing business which he eventually lost control of as Rahul was trying to fill in his shoes.
Rakesh Gangwal is a career aviation executive having worked for US Airways.
Indian Aviation history
Indian commercial passenger aviation's most notable name was JRD Tata's Air India.
However, several smaller players have existed, with civilian aviation being given a boost by a few maharajas.
Since there can be no flying in the absence of enabling infrastructure, early aviation pioneers also took upon themselves to develop facilities such as aerodromes, flying clubs, and undertaking training of aviation personnel.
Post independence aviation was nationalized. Air India controlled the external market while domestic operations were clubbed into Indian Airways.
Contrary to popular opinion, Nationalization of airlines is not an anomalous step taken by India but a general trend post the end of world war. Most of the major airlines of their times, some of them being the household names today were nationalized at some part of time.
JRD maintained as an operational executive till late 70s and the quality of operations declined significantly after that.
Indian Aviation has always been choked by the government policy which has refused to user in free markets at different times due to different reasons, but mostly to save Air India.
Indian aviation sector was considered a graveyard as most of the airlines started in India would collapse and close.
India saw a steep rise in number of airlines post liberalization but very few survived.
The LLC Saga
Airlines can be divided into two categories: LLC (Low Cost Carriers) and FSC (Full Service Carriers).
Traditionally all carriers were FSC, with their multiple classes and a focus on quality and a range of services (one can consider it range of "experience").
LLCs on the other hand, often called No-Frills airlines are not focused on the experience but on the outcome i.e. Taking Passengers from Point A to Point B at the lowest cost possible, by obsessing over efficiency. Major success stories globally include SouthWest, RyanAir, EasyJet and AirAsia.
For example, LLCs have limited menu offering this reduces the logistical cost. They don't offer multiple classes, since catering to multiple classes and creating different experiences can hit efficiency.
LLCs also operate from secondary airports more than primary airports since the airport charges for these are less than for primary airports.
Secondary airports are often located away from cities while Primary airports are very close to the cities and offer greater services but also cost higher to the airlines.
India does not have secondary airports operational but many are under construction - Noida International (Jewar), Navi Mumbai, Visakhapatnam, Purandar (Pune) and Dholera (Ahmedabad)
Finally, LLCs optimize for route. Rather than operating direct flights over routes where few passengers may be available, they operate on routes where they can maximize traffic leaving it up to the passengers to decide the route.
FSC on the other hand run direct flights that can save time between non-popular routes but make up for it in higher ticket costs.
Indian Aviation at Indigo's Debut
As discussed, Indian Aviation was a graveyard when Indigo debuted.
Airlines shutting down was a norm and losses were an acceptable part of the game.
For any airlines, its biggest cost component is the fuel. But since fuel prices are neither very stable not in their control, it's very difficult for an airline to be profitable.
Airlines try to run a decent service and once popular try to monetize other services - such as premium seats, in the air food, extra baggage etc.
Indigo debuted around 2006 and at this time the major players were Air India (declining) and Jet Airways.
Kingfisher Airlines had started a few years prior, also as an LLC but it had started expanding into an FSC that had started to put a strain on its finances.
Domestically the most profitable LLC was Deccan airways, but it was acquired by Kingfisher to use its International License thanks to 5/20 rule (more on that later). Deccan Airways however had a reputation for sub-par service in efforts to push down cost.
Sahara had also ventured into LLC space but had eventually folded out and bought by Jet Airways who operated it under the brand Jet Lite.
Finally, there was SpiceJet. Started by Ajay Singh, an associate of Pramod Mahajan, he had overtaken the ModiLuft airlines a collaboration of S K Modi and Lufthansa. SpiceJet had a good record initially, but repeated change of ownership hurt it.
Indigo made a big bang entry by ordering 100 Airbus A320 aircrafts in 2005 even before starting operations, news for which was heavily publicized by Airbus
This deal though mind boggling on paper had very practical considerations from both sides. For Airbus, it meant a big bang entry into Indian Market which had been heavily dominated by Boeing.
Indigo had placed an order for 100 aircrafts but the money had to be paid on delivery. This meant that it could bargain and get a cheaper price for aircrafts due to its bulk order, but the money would leave in tranches. Moreover, since Indigo had a large reserve of planes as it grew.
Finally, by ordering 100 planes of the same model, Indigo could optimize its servicing operations. It set up required units and even started a training academy, a first in India.
The second differentiator that Indigo employed was to lend respectability to LLC. The philosophy being that the low-cost airlines should not feel unprofessional or shoddy, factors that had hindered the growth of other LLCs in India.
Finally, the biggest differentiator and one that Indigo did not mind bragging was its on time performance. Its pilots would announce and thereby highlight its on time performance.
Growth Phase 1
Indigo's first phase of rapid growth coincided with the decline of Kingfisher airlines. Kingfisher had become the market leader in India, but its financials had always been worrying. On top of that, its founder Vijay Mallya soon abandoned the substance in favor of style. Kingfisher which had started as an LLC, started adding First Class and soon its menu expanded to accommodate delicacies unheard of.
In the Netflix documentary series [[Bad Boy Billionaires]], the decline of Kingfisher is in a large part caused by a damning report written by a Canada based investment firm whose Indian origin executive travels by the airlines and can't believe the level of service and thus is interested in the financials of the company.
As Kingfisher started shutting down, Indigo started growing and taking its place and passengers.
SpiceJet also faced operational issues. With its ownership passing around the company was not professionally run and every investor coming onboard would eventually give up. The company established only when it passed back to Ajay Singh.
Another positive that Indigo had was the profitability it maintained throughout. Indigo is the only Indian airlines to be profitable for most of its existence even when fuel prices played spoil sport.
The profitability also comes from the fact that Indigo has optimized every aspect of its operation. Its Airbus A320 is considered the most fuel efficient in its class, especially its competition Boeing 737. It runs its aircrafts for more time than competitors and its average flight has more passengers than the competition. Indigo even chooses special light weight seats to keep costs down. Since fuel expenses comprise around 45% percent of costs, managing well here means the battle is half won.
Indigo also has lower HR costs. While initially it could have been attributed to lower pilot salaries but as competition has heated up, Indigo has started offering higher compensation. Indigo also focused on superior training of the support staff resulting in the need for less staff per flight and thus keeping the costs of operating flights down.
Finally, the Indian Passenger market has been growing rapidly with rising prosperity and Indigo was well poised to benefit from it.
For the newer generation of Indians, air travel is not a luxury but another mode of transport and as such Indigo's biggest competitor remains the Indian Railways.
5/20 Rule
5/20 rule was brought in during the UPA era primarily to benefit government owned Air India, but other incumbents benefited as well.
The idea is that international routes are very profitable compared to domestic routes and thus every airline wants to go international as fast as it can.
The 5/20 rule states that for an airline to qualify for international routes, it should have been in operation for at least 5 years and should continue to deploy at least 20% of its fleet for domestic routes.
The idea was to benefit Air India which qualified but Jet also benefitted from this rule when introduced. Kingfisher was in a hurry to go international and thus despite poor financials it (probably) overpaid for Deccan Airlines to acquire its international license.
Indigo bid its time and received its international routes license. However, this was not a smooth sailing as unlike domestic routes, international routes had seen the power of free markets and the incumbents included LLCs from other countries, specifically southeast Asian countries such as Singapore, Malaysia and Indigo had to retreat.
The 5/20 rule was abolished by NDA government after Tata lobbied for it, having re-entered the Indian Aviation with joint partnerships with Air Asia (Air Asia India) and Singapore Airlines (Vistara)
Indigo tried to lobby for keeping the rule in place suggesting that scrapping it would hurt the companies that had followed the rule.
5/20 rule was replaced by 0/20 rule. Meaning that any Indian airlines could start flying international from day 1 given that it committed 20% of its fleet for domestic travel.
Growth Phase 2 and the story now
After conquering the Indian market, Indigo has now set its sight for the international market. While it suffered some setbacks initially it has started a fresh strategy and it is yielding some results.
Indigo got into trouble in 2018 when the Airbus A320neo that it had purchased started developing problems. A320neo was the most fuel-efficient plane around and available in two engine configurations, with slight price variations. Indigo has purchased the cheaper variant and this variant was later found to be vulnerable to mid-air engine shut down.
Though the problem was first identified in Indigo planes, it was found to replicate all around the world, with an explanation being that the engines were not built-in mind the hot temperate climate.
The planes were grounded by DGCA and while eventually allowed Indigo was instructed to check/service these planes first every 1000 hours then 500 hours.
Apart from this Indigo also got reprimanded by a parliamentary committee after an MP complained and around the same time PV Sindh also alleged bad behavior. An old clip also got viral online causing a PR disaster.
It was also found that Indigo intentionally recorded longer scheduled flight times and then boasted its before time arrival, while its competitors recorded the same scheduled and actual flight times. DGCA came out with fresh rules, standardizing the process and with new rules in place SpiceJet turned out to be the leader of on-time arrival.
Meanwhile, the Indian market is heating up. While Jet Airways has flied into sunset for the foreseeable future, Tata with Air Asia and Vistara is gaining ground. SpiceJet is also improving steadily and GoAir has started to mimic Indigo's best practices to perfection.
Indigo is banking on its international strategy for the phase and has also roped in a new CEO. The rest remains to be seen.
DISCLAIMER:
These notes are based on my reading of the book and were originally for meant for my personal use only. As such there may inadvertently contain any biases or errors. I'd be grateful if you point out errors (if any) as well as discuss any point that you may not agree with.
Just to be absolutely sure, please note that I have not proof-read these notes, but simply copied them verbatim from my notes app to cut down the time taken. At the time of writing these notes were purely for personal consumption and/or further enquiry. So if you find any sentence/reference/comment to be offensive, please contact me first before "calling me out". I'll remove it if I agree with you or at the very least will try to make my case